WHAT IS DIGITALCLOSINGPACKAGE.COM?
Designed for title companies and real estate attorneys, the Digital Closing Package is an extremely effective post-close marketing service uniquely designed and implemented to do three things:
1. Provides a tangible, unique, and memorable product/service to your clients at closing (a USB Key branded to your title company/law firm that transports clients to a secure and branded website to view closing documents 24 x 7 x 365).
2. Provides repetitive and automated marketing for your title company / real estate law firm to drive you more business by increasing repeat business and referrals.
3. It is full service so the service is extremely easy to roll-out, does not change current business processes, and will only take a few seconds per transaction so you can concentrate on your core business while we do the rest.
HOW WE DO IT
Branded USB Key & Hosting
Unlock the "wow factor" and stand out from the competition by providing your clients with a branded USB key and key chain at closing. The USB key (No NPI stored on USB Key) will transport your clients to a secure and branded site where they can view their closing packages 24 X 7 X 365. Also included on the site are the lender and/or realtor involved in the transaction if the buyer or seller ever needs anything.
Targeted Emails
Stay in front of your clients while the system sends 2 personal and 5 content-based e-mails throughout the year. This will keep you top of mind with your clients, increase brand recognition and loyalty, and assist with repeat business and referrals.
Notifications
Know when clients may be back in the market with automated client access notifications.  The system provides notifications to the title company/law firm when each client enters the site and shows which documents were viewed. This can be a valuable indicator that the buyer/seller is back in the market.
MyForensis.com
MyForensis.com is the title agent's secure portal for creating and managing the Digital Closing Package.
MyForensis.com also provides you instant access to your archive for all your closing packages.
Features include, but are not limited to: guest permissions, advanced search engine, editing, emailing, audit logs etc.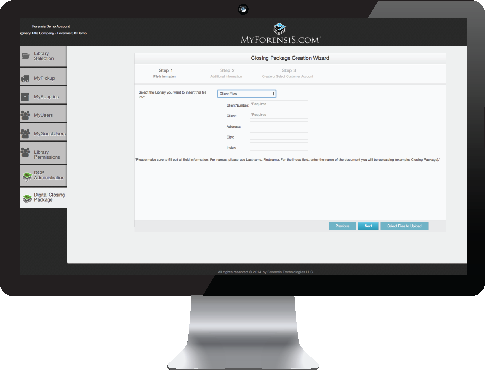 Branded USB Key
At closing, you will provide your client with a branded USB key and key chain.
The USB key has a 7 digit unique number engraved on it.
Your business card goes in the Key Chain.
No confidential information is stored on the USB. It will take your client to the secure site (DigitalClosingPackage.com) to log in, complying with ALTA's Best Practices.
For those buyers or seller where it difficult to send DCP USB Key, the system also has a built-in remote closing / mail-away system.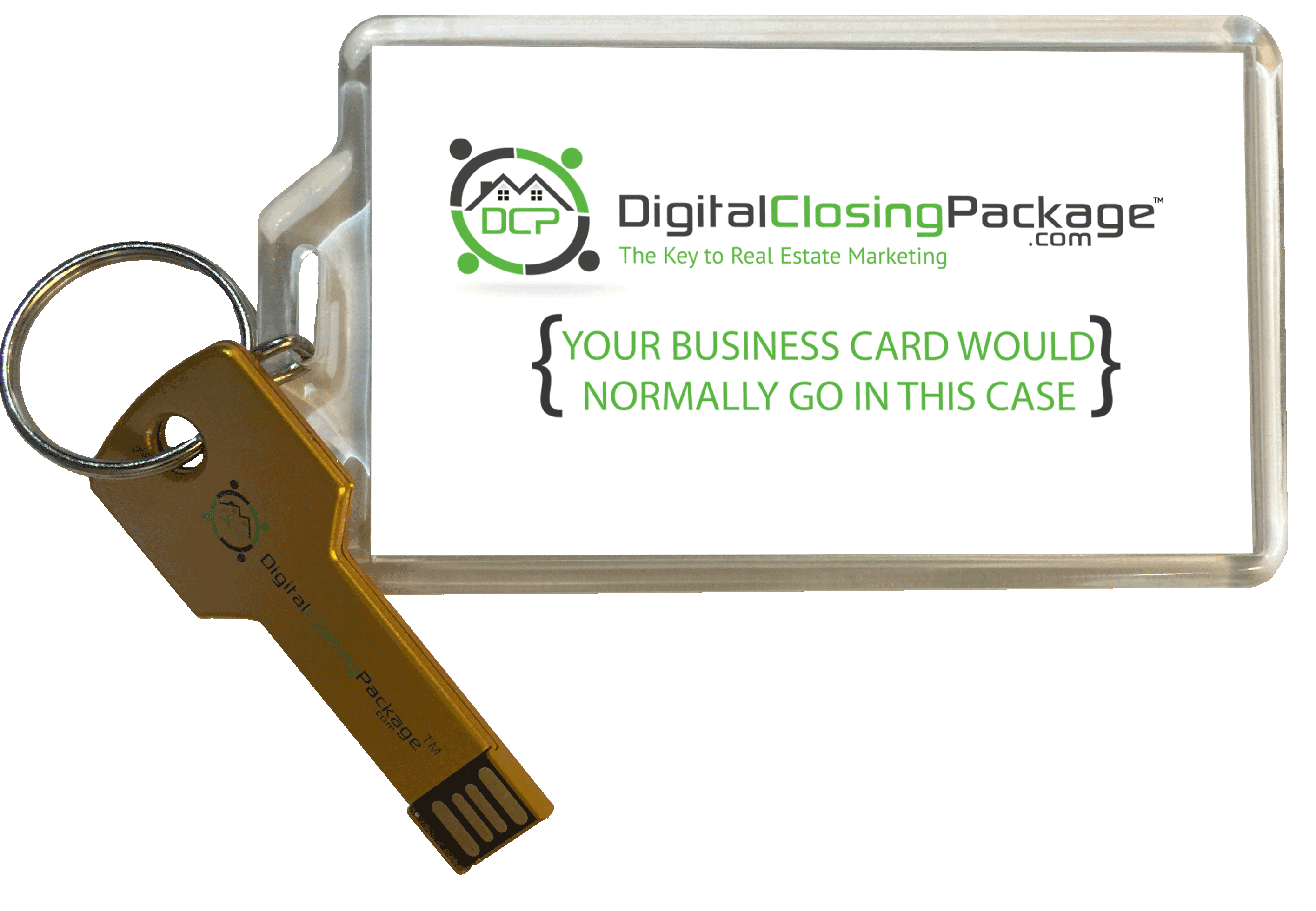 Digital Closing Package Website
When each of your clients log in, they will enter a site that is branded to your title company or law firm.
Your clients can view, save, and print their closing documents 24 x 7 directly from the site.
All contact information for you, the real estate agent, and the lender that were involved in the transaction are displayed on the site.
The client will receive an e-mail notification each time new documents are uploaded (could be minutes, days, weeks, or months later).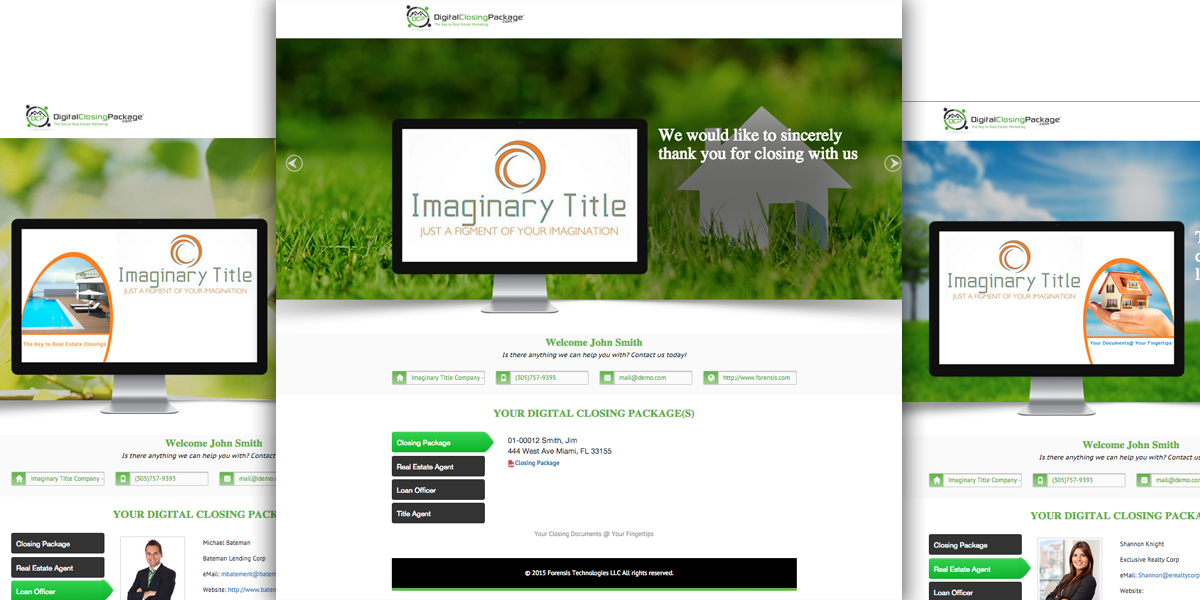 Automated targeted e-mails to Client
Targeted emails that go out to you clients after closing will keep your company/firm top of mind for your clients. All emails are branded your company/firm and look like they are coming directly from you. You stay in front of your clients, with no work on your part.
(1) Welcome Pre-closing e-mail
(2) Personal e-mails are sent out each year (Anniversary of Purchase of Home, and Happy Holidays).
(5) Content-Based e-mails are sent out each year (2 Home Valuations, 2 Mortgage Rate, and 1 Homestead Exemption Reminder).
Emails to Buyer and Seller Real Estate Agents / Lenders
You can send Digital Closing Package Welcome Emails to Realtors and Lenders prior to closing that introduces the Digital Closing Package and identifies the benefits it offers the consumer/seller.
Once a Digital Closing Package is created, the system automatically sends a branded "Thank you for closing with us" email to the realtor and lender.
Ready to stand out from the competition and increase your closing counts?
Contact us now for a brief 15 minutes presentation on how the Digital Closing Package will help your title company/firm reach or exceed your growth goals.

Contact US
Map
ForensiS / Digital Closing Package Headquarters
7322 SW 48th Street
Miami, FLorida 33155
Local (305)757-9393
Text (305)757-9393
Toll Free (866)757-9393
About Us
DigitalClosingPackage.com is designed and developed by Forensis Technologies, LLC (Forensis). Forensis has been servicing the title industry since 2003 by providing products and services that increase productivity, efficiency, profits, and security for title companies and real estate lawyers.  Throughout the years, Forensis has received numerous awards for document management, including being named #1 in the Daily Business Review's "Best Of"  for many consecutive years. To learn more about Forensis, please click here.
With the landscape rapidly changing in the title insurance industry, it is important to stand out from the competition and to have an effective post-close marketing system that not only provides results on a consistent basis, but also does all of that while still being easy-to-use, affordable and not time-consuming. Standing on the forefront of cutting-edge technology, DigitalClosingPackage.com is a proven system that will increase market share, profits, and repeat business for your title company or real estate law practice.
In essence, we have one job. That job is to make certain that our product/service brings you more business so that you can grow your title company or law firm to a level that will achieve your goals and objectives. We take this job very seriously.
Contact us today for a complimentary demonstration.  We are committed to excellence and stand ready to serve you.